Today is my SITS day!!!!!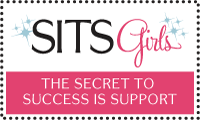 For those of you visiting, Welcome!
Moments that Define Life is my little place to share about life as I know it. You'll find a little of everything – motherhood, life, debate about hot topics with my Talk to Me Tuesday Meme which is put off until next week because I thought today deserved it's own post!
If you aren't aware of who the SITS girls are and you're here by sheer coincidence then I should share. The SITS Girls are a fabulous network of women who believe that The Secret is in The Support. Through their site, they share blogging words of wisdom and on a daily basis feature other bloggers so we can all find one another.
SITS is also the creator of the fabulous Bloggy Boot Camp which I SO hope to attend in the near future. Additionally, they have the likes of Mama Kat from Mama Kats Losin It and Angie from Seven Clown Circus who I tend to stalk….I mean read….. each and every day. In fact, they were my first Bloggy Idol Interviews!
The SITS girls are genuinely approachable and are definite must visit. I know I am a better blogger for having found their site because they educate and support all bloggers through their network.
I am so excited to have the chance to "meet" new bloggers on my SITS feature day. Please poke around a bit, leave a comment somewhere so I know you were here and I can pop over your way sometime throughout the day. If you're looking for some of my favorite posts, go HERE – you'll find a variety of posts there that really show "me" from motherhood to a brush with celebrities to my musings on giving into the minivan. Stop by my "About Me" section to find out other random facts.
I will be the first to admit I have a lot to learn in the blogging world, but I genuinely enjoy the interactions with other bloggers. I've made some great blogging friends already and I have had the pleasure of finding some opportunity through my blogging. I hope you'll stick around to watch me evolve – because I'm here for the long haul folks.
Next week you'll see the likes of Amanda at Parenting by Dummies, Jenny from Jenny on the Spot, and KLZ from Taming Insanity for my second run of Bloggy Idol Interviews!
Now the twins are calling my name from upstairs….so, grab a cup of coffee and take a look around. Thanks for stopping by!